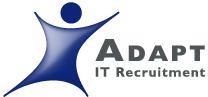 Welcome to Adapt IT Recruitment
Adapt IT specialise in the recruitment of IT professionals, we understand the importance of matching the right career path to the ideal individual. We have the awareness and ability to adapt in an evolving IT marketplace, this is the key to our successful partnerships with both 'blue chip' companies and IT professionals.

With many years experience in IT recruitment, we are able to assess the needs of both the client and the candidate, and provide cost effective, tailored solutions across the industry. Our consultants approach each requirement individually, providing advice and recruitment solutions utilising all areas of recruitment.

Adapt IT Recruitment Limited has almost a decade of professional experience within the IT recruitment marketplace. We are able to provide a complete IT recruitment service to Clients and Candidates both nationally and on a local basis.

All of our experienced consultants are committed to providing Clients and Candidates the best possible levels of service in a professional and timely manner. Our understanding of the IT arena and market forces makes us ideally placed to offer support to Clients in the recruitment of staff and guidance to candidates looking for their next career challenge.

Adapt IT Recruitment believe that every recruitment situation is unique and therefore should be treated accordingly.
Working for both clients and the candidates

Established in 1999, Adapt's specialist IT Division is renowned for the supply of high calibre resources to the industry's major players
Live IT Jobs

Need to recruit?
Contact us about our flexible payment recruitment options.
Competitive fees for sole agency recruitment for new and existing clients
Reduced standard fees for new and existing clients
A tailored advertising and CV screening service all for a set monthly fee
Scheduled payments to assist your cash flow
Read More


Mobile Job Search
Search the Adapt database of jobs on the move via your mobile phone.
Text 'Jobs' to 81025